Mob Psycho 100
First Air Date: 2016-07-12
Register Free Account
You May Like Also
Death Note
Death Note
Light Yagami is an ace student with great prospects—and he's bored out of his mind. But all that changes when he finds the Death Note, a notebook dropped by a rogue Shinigami death god. Any human whose name is written in the notebook dies, and Light has vowed to use the power of the Death Note to rid the world of evil. But will Light succeed in his noble goal, or will the Death Note turn him into the very thing he fights against?
Fullmetal Alchemist: Brotherhood
Fullmetal Alchemist: Brotherhood
Edward and Alphonse Elric's reckless disregard for alchemy's fun­damental laws ripped half of Ed's limbs from his body and left Al's soul clinging to a cold suit of armor. To restore what was lost, the brothers scour a war-torn land for the Philosopher's Sto­ne, a fabled relic which grants the ability to perform alchemy in impossible ways. The Elrics are not alone in their search; the corrupt State Military is also eager to harness the artifact's power. So too are the strange Homunculi and their shadowy creator. The mythical gem lures exotic alchemists from distant kingdoms, scarring some deeply enough to inspire murder. As the Elrics find their course altered by these enemies and allies, their purpose remains unchanged – and their bond unbreakable.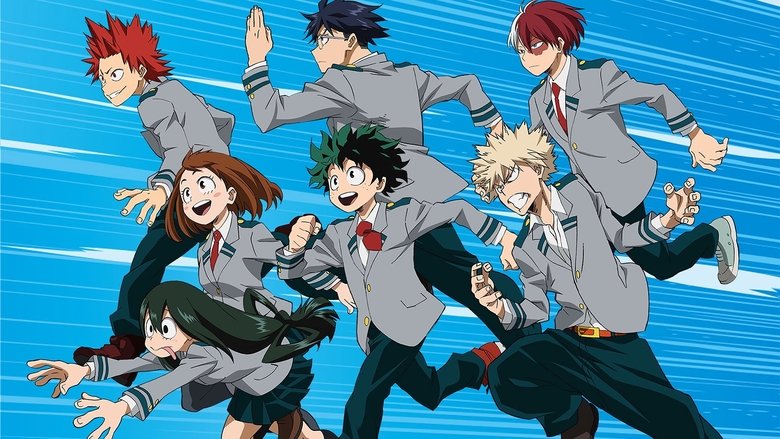 My Hero Academia
My Hero Academia
People are not born equal, a realization that 4-year-old Midoriya Izuku faced when bullied by his classmates who had unique special powers. Izuku was one of the rare cases where he was born with absolutely no unique powers. This did not stop Izuku from pursuing his dream, a dream of becoming a great hero like the legendary All-Might. To become the great hero he hopelessly wants to become, he now will join the ranks of one of the highest rated "Hero Academies" in the country: UA. With the help of his idol All-Might, will he be able to claim the ranks and become a true hero?
Dagashi Kashi
Dagashi Kashi
Shikada Kokonotsu's father owns a rural sweets shop, and his plan is for Kokonotsu to take it over one day. However, Kokonotsu wants to be a manga author instead! One day in summer, the cute but weird girl Shidare Hotaru, from the famous sweets company, comes to pay a visit. Apparently, Kokonotsu's father is famous and she wants him to join her family's company. However, he will only agree if she can convince Kokonotsu to take over the family business!
Boruto: Naruto Next Generations
Boruto: Naruto Next Generations
Naruto was a young shinobi with an incorrigible knack for mischief. He achieved his dream to become the greatest ninja in the village and his face sits atop the Hokage Monument. But this is not his story. A new generation of ninja are ready to take the stage, led by Naruto's own son, Boruto.
Dragon Ball Z
Dragon Ball Z
Dragon Ball Z is a Japanese animated television series produced by Toei Animation. Dragon Ball Z is the sequel to the Dragon Ball anime and adapts the last 26 volumes of the original 42 volume Dragon Ball manga series created by Akira Toriyama The series Debut in 1988-1995 on Weekly Shounen Jump. Dragon Ball Z depicts the continuing adventures of Goku and his companions to defend against an assortment of villains which seek to destroy or rule the Earth. The anime first aired in Japan from April 25, 1989, to January 31, 1996, and was dubbed in several territories around the world, including the United States, Europe, and in Latin America.
Attack on Titan
Attack on Titan
Several hundred years ago, humans were nearly exterminated by Titans. Titans are typically several stories tall, seem to have no intelligence, devour human beings and, worst of all, seem to do it for the pleasure rather than as a food source. A small percentage of humanity survived by walling themselves in a city protected by extremely high walls, even taller than the biggest Titans. Flash forward to the present and the city has not seen a Titan in over 100 years. Teenage boy Eren and his foster sister Mikasa witness something horrific as the city walls are destroyed by a Colossal Titan that appears out of thin air. As the smaller Titans flood the city, the two kids watch in horror as their mother is eaten alive. Eren vows that he will murder every single Titan and take revenge for all of mankind.
Fairy Tail
Fairy Tail
Lucy is a 17-year-old girl, who wants to be a full-fledged mage. One day when visiting Harujion Town, she meets Natsu, a young man who gets sick easily by any type of transportation. But Natsu isn't just any ordinary kid, he's a member of one of the world's most infamous mage guilds: Fairy Tail.